Rupi Kaur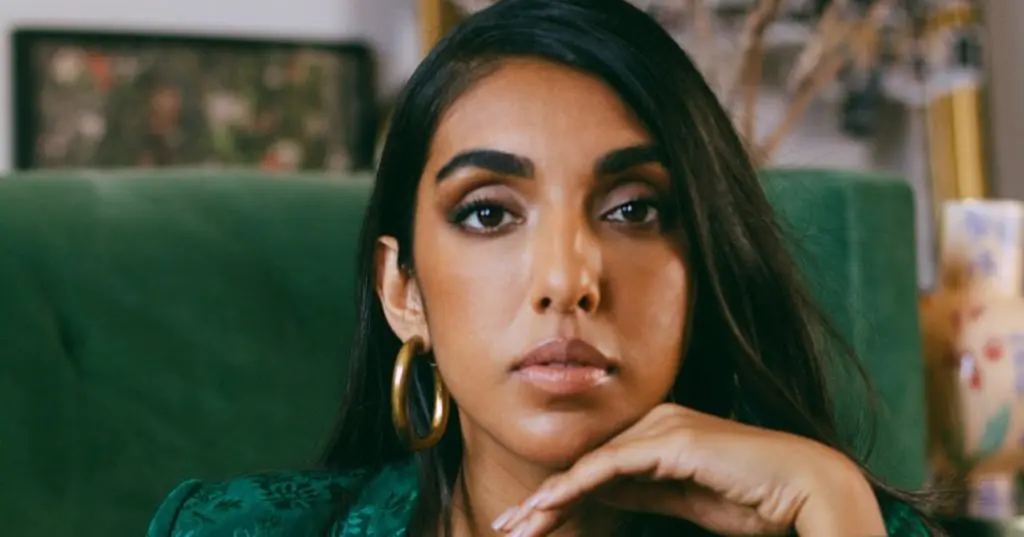 Rupi Kaur, is a Canadian poet, illustrator, and author who was born in India in 1992. Her poems and art has captured the hearts and minds of millions around the world with her unique style.
Moving to Canada at the age of four, Kaur gained popularity on social media platforms like Instagram and Tumblr through her insightful and relatable poems.
By the time she was 21, Kaur had written, illustrated, and self-published her first poetry collection, "Milk and Honey" (2014), which was met with widespread acclaim and praise.
Since then, Kaur has published several other collections of poetry, including "The Sun and Her Flowers," which has sold over 10 million copies and has been translated into over 42 languages.
Rupi's work speaks to the experiences of people from all walks of life and has resonated with readers worldwide.
She has been praised for her honesty, vulnerability, and unique ability to capture complex emotions in just a few words.
Table of Contents
The Power of Social Media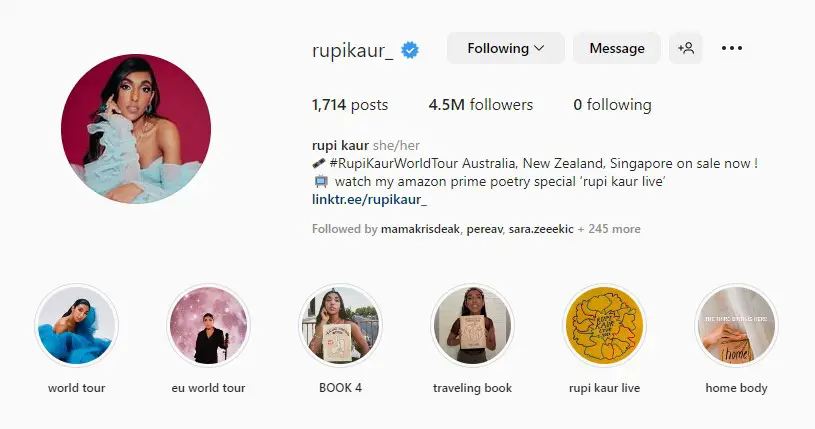 Kaur's meteoric rise can be attributed in large part to her early embrace of social media platforms. Kaur was able to build a large and dedicated following of fans who eagerly awaited her latest posts by sharing her poetry and illustrations on Instagram and Tumblr.
Her fans appreciated her honesty and openness about her experiences as well as her work. Kaur's work stood out and quickly gained popularity in an age when people are increasingly looking for authentic and relatable content.
Social media wasn't the only factor that contributed to Kaur's rise to fame, her choice to self-publish her first book also had a significant impact on her success.
The Importance of Self-Publishing
Kaur's success can also be attributed to her decision to self-publish her first collection, "Milk and Honey."
By self-publishing her first collection, Kaur was able to maintain creative control over her work and ensure that her vision was accurately reflected in the final product by managing the publishing process herself.
This enabled her to reach a larger audience and achieve recognition on her own terms.
Themes in Kaur's Work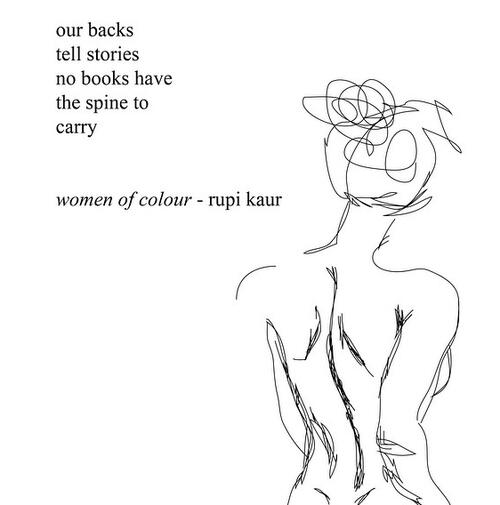 The themes of love, loss, trauma, recovery, and femininity are all explored in her work. Short lines and a lack of punctuation have characterised Kaur's minimalist writing style.
Her work has come under fire for being derivative and possibly plagiarized. Despite the criticism, Kaur's writing has gained a lot of support, especially from feminists and women, as it explores subjects that are frequently disregarded or overlooked.
kaur's poems and quotations frequently celebrate women's tenacity and fortitude as well as their capacity to learn from and grow as a result of their experiences.
The Impact of Kaur's Work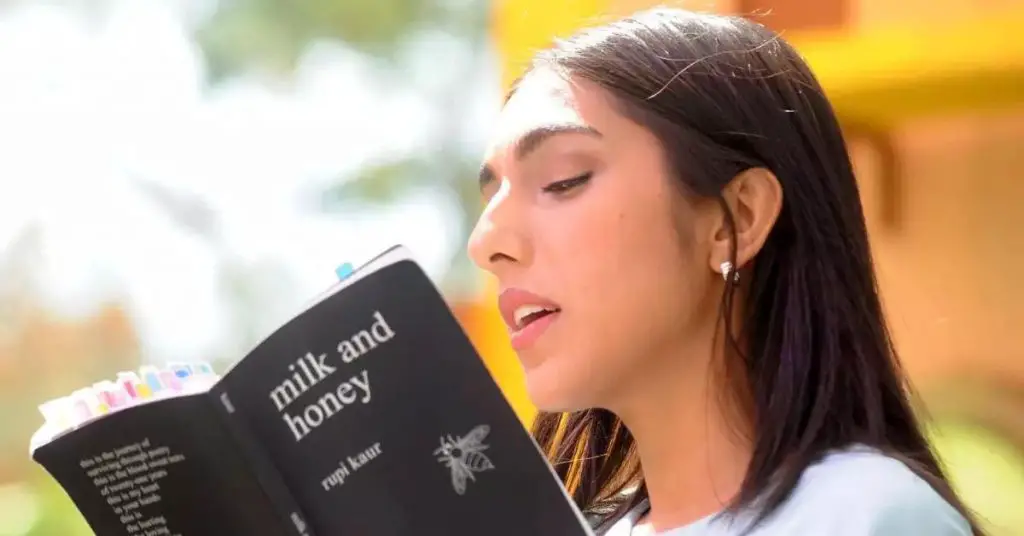 Readers have been deeply impacted by Kaur's writing because of her candour and vulnerability. this is reflected in her social following and the sale of her various collections.
Her poems have been hailed as empowering, healing, and consoling, offering consolation to those who have gone through comparable struggles.
Another aspect of her writing that has drawn praise is its capacity to encourage readers to reflect on and learn more about themselves and their experiences.
Books by Rupi Kaur
To date, Kaur has written four books. Her books have been well received by readers, with millions of copies sold and high ratings on both Amazon and Goodreads. Here are Kaur's four books:
Milk and Honey (Andrews McMeel Publishing (October 6, 2015)
The Sun and Her Flower (Andrews McMeel Publishing; First Edition (October 3, 2017)
Home Body (Andrews McMeel Publishing; First Paperback Edition (November 17, 2020)
Healing Through Words (Andrews McMeel Publishing (September 27, 2022)
Rupi's literary talent and distinct writing style have earned her great success, with her first collection making it to the top of bestseller lists worldwide.
These collections have sold over 11 million copies and have been translated into 43 languages, making her work available to a global audience.
Rupi Kaur's Quotes and poems
Kaur's raw and honest poetry is centred around love, hurt, healing, and human emotions. Her work has earned her the title of "original #instapoet," and her powerful messages remain relevant and impactful. Some of her most well-known poems can be found all over the internet and have been reposted countless times.
Here are Rupi's most well-known inspirational quotes and shared poems: 
1.
"i am water
soft enough
to offer life
tough enough
to drown it away"
2.
"my heart woke me crying last night
how can i help i begged
my heart said
write the book"
3.
"love will come
and when love comes
love will hold you
love will call your name
and you will melt
sometimes though
love will hurt you but
love will never mean to
love will play no games
cause love knows life
has been hard enough already"
4.
"do not look for healing
at the feet of those
who broke you"
5.
"how you love yourself is
how you teach others
to love you"
Frequently Asked Questions
1. Where was Rupi Kaur born?
Rupi Kaur was born in Punjab, India.
2. What are the themes of Rupi Kaur's work?
Rupi Kaur's work touches on love, loss, trauma, healing, femininity, and migration.
3. What does Rupi Kaur feel most at home doing?
Rupi Kaur feels most at home when creating art or performing her poetry on stage.
4. How did Rupi Kaur self-publish her work?
After years of writing, performing, and participating in writing workshops, Rupi Kaur was inspired to publish her work.
5. Why does Rupi Kaur use a period symbol in her work?
Rupi Kaur employs the period symbol in her work to represent and preserve the finer details of her mother tongue, the Gurmukhi script. The only punctuation used in Gurmukhi is a period.
Final Thoughts on Rupi Kaur
To conclude, Rupi Kaur's rise from a self-published poet to an international sensation is a testament to the power of art and the influence of social media.
Her distinct voice and powerful writing, which explores themes of feminism, trauma, loss, heartbreak, love, family, healing, and self-discovery, have captivated audiences.
Kaur's poems are both relatable and thought-provoking, and she has used social media to reach a global audience.
Her ability to connect with her audience has helped to make her poetry tours a success, with her innovative use of lights and music creating an entirely new experience for her fans.
Overall, Rupi Kaur's rise demonstrates the power of one person's voice and the ability for self-expression to break down barriers and reach millions of people around the world.