Poetry About Relationships
Relationships are a common topic for poetry because they offer opportunities for both positive and negative emotions. Love, joy, and companionship can be found in good relationships, while heartache, loneliness, and betrayal are experienced in bad ones. In either case, the intense emotions involved in relationships make them ideal subjects for poetry.
The poems from this post come from the poetry collection, Falling for Petals, click the link below to read the full collection: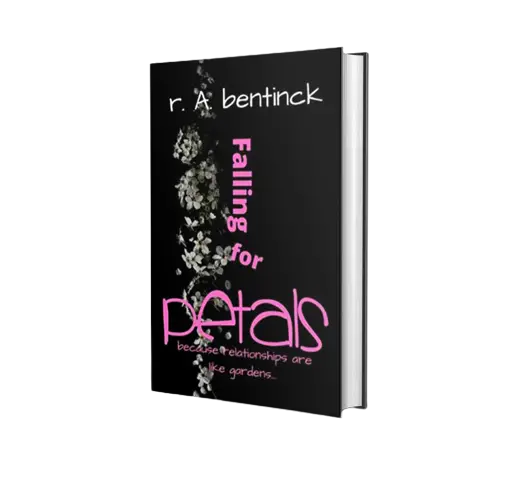 Affiliate Disclaimer: This post may contain affiliate links, which means I will receive a commission if you make a purchase using these links.
Love and relationship poems
Poetry about relationships is often about the ups and downs of being in a relationship. It can be about the love, the hurt, the pain, and the happiness that comes with being in a relationship. It can be about the good times and the bad times. It can be about hope and despair.
1. The Petal Spell
i saw her smile
from a million miles away 
as she approached me.

with the gentlest of embrace
she greeted me 
and 
with soft lips to my earlobe
she whispered words that 
vanquish my fears and blues
and straightaway i fell
under her petal spell.

we spent time in the company 
of intellectual conversations
and she captivated 
my interest and curiosity.
and gradually i surrendered
to the powers 
of her petal spell.

she knows how 
to make me smile even in 
the most gloomy situations,
she has the Midas effect
on almost everything
she touches in my life.

and just like that
i fell headlong 
into her petal spell.

one day 
she trusted me
enough with her petals
like she trusted 
the butterfly 
and 
she let me taste her nectar.
ever since that day
i have sunk deeper 
in her petal spell.

2. Longer Next Time
she kissed me 
like the morning sun 
and 
my days became 
brighter and warmer.
so i asked her politely,
can you make it 
longer next time?

we got engrossed 
in an intellectual conversation
but time and 
our respective responsibilities
forced us to leave in 
the middle of it all.

so i told her 
we need to make it happen
longer next time.

once in my dreams, i kissed
her sugary lips
but in the heat of the dream
i got a wake-up call
from my roommate.

so with frustration, 
i informed him
to let me sleep
longer next time.

she embraced me 
as she said goodbye 
and i had to interrupt
her departure by asking her,
can you make it
last a bit 
longer next time?

there is something about her
that makes me feel like
i can never get enough of her.

despite how much time 
we spend together and
how much we enjoy 
each other's company,

when it comes time to leave
i always feel the need
to tell her,
we need to do this
longer next time. 
 

3. Confused
she came like a thief
on a moonless night and took
everything i possessed.

she gently stole my innocence,
robbed me of my timidity,
stripped me of my cultivated pride,
unlocked the steel vault to 
my hidden fantasies
and intentionally exposed 
the freak in me.

she came like a skilled thief
and caught me by surprise 
and she took almost everything
now i am left 
breathless,
senseless,
and
distressed,
because she left with
all my fledgling hopes
and blossoming dreams.

what a woman.
what an experience.
what unintentional destruction
she has left in her stiletto path.

she came like a veteran thief
on a moonless night and took
everything i had.
 

Relationship love poems
When it comes to relationships, poetry can be a beautiful way to communicate your thoughts and feelings. Whether you're in a new relationship or have been together for years, poetry can help you express your love for one another.
4. Confessions (freeing feelings)
every so often they say 
confessions are good 
for the soul.
so today i got a confession.

these seething emotions 
were always there 
from the very start:

the instant crush on you,
the lustful yearnings
to be with you,
the petal throbbing
as a result of wanting you,
the imaginary longings,
the multiplicities of fantasies,
the numerous thoughts of things
i want and wanted to
do to with you.

these heated feelings
were there from 
the very beginning.

now this opportunistic moment 
has created the perfect setting 
for me to be bold enough
to tell you how 
i have been feeling for so long.  

i have always wanted you,
silently i always admired you
from the corners of my eyes,
i adore your sweet smile,
somehow you always
set my emotions afire
and give wings to my
unfulfilled fantasies.

its been such a relief
to say all the things 
i have been feeling
for ages.
thanks for lending me
your listening ears.

the wise often say
every so often 
confessions are good
for the soul.
now that i have confessed
to you, 
what are you going to do
about all of my confessions?

5. Her Exceptional Smiles (for Shakkeene)
effortless perfection, that's how
i would describe her smiling.

it wouldn't be an exaggeration 
for me to conclude that 
she was fairy dust sprinkled 
with the rarest collection of smiles.

she possesses smiles 	
that reflects an assortment 
of the best smiles 
from the ancestors of yore.

her smiles are extraordinary 
in so many ways.
her pleasant smile will 
tease you,
her gentle smile will 
please you.

her radiant smile will 
mesmerise you,
her charming smile will 
seduce you,

her satisfied smile will 
bring you joy,
her scintillating smile will 
hypnotise you,

her carefree smile will 
liberate you from bleak places, 
and 
her humorous smile will 
frolic with 
your unbridled imagination 
in inconceivable ways.

this is not equity.

no one woman should possess 
such a glistening array 
of mind-altering smiles.

6. Turn Me Over
sometimes it's good
to surrender,
give up the need
to be in control
just go with the flow.

my position of dominance
was not cutting it anymore
so she turned me over
in one clean and swift motion.

she introduced me 
to motions
i have never seen or
experienced before.
but i willingly let myself
go with the flow 
of the moment.

that flow caused sensations
that left me
gasping,
clawing,
twitching,
yearning,
and singing to 
satisfactory heaven.

she turned me over
and taught me a lesson
in the sweetness of uncertainty.     
 

Poems for relationships
When two people are in a relationship, they often share intimate thoughts and feelings with each other through the written word. Poems can be a way to express these emotions in a beautiful and creative way.
They can also be used to simply express the love and affection that two people feel for each other. Whether they are happy, sad, or somewhere in between, poems about relationships can be a cherished way to communicate with each other.
7. Un-See
i saw you today
and now i cannot 
unsee you.

you sauntered into the halls 
of my welcoming mind
now i can't get rid of you.

what did you do to me?

i am remembering 
your comforting countenance 
that set my uncertain mind at ease 
and give my thoughts wings.

i saw your flashlight smile today
and now i cannot 
unsee you.

you have taken a permanent seat
at my creative table
and you are now dining 
with my wildest writing fantasies.

i saw your sweet face today
and now i cannot 
unsee you.

i heard your tantalising whispers,
digested your every word,
heard the sincerity in your declarations
and felt the passion in everything
you said.
i fell for your uniqueness today
and now i cannot
unsee you.

8. Her World
i never knew how 
easily this visible world could
dissolved into nothingness
until i spent a moment
in her world.

i gazed keenly into the depths
of her engaging eyes 
and a whole new world
appeared incrementally,

i got captivated by 
her dimpled smiles
and caught up 
in a world of sweet possibilities,
i felt her buttery skin
and suddenly 
an unfamiliar and exciting rhythm
dominated the left side
of my chest.

she giggled and laughed
and the music she made
took me away 
to soothing places
where i tasted and felt
sweet reverie.

she spoke with such
intellectual fluency and
i was bedazzled by
her wittiness,
her analytical prowess,
her insightfulness,
her wealth 
of extensive knowledge and 
mind absorbing conversation.

i got a whiff 
of her natural bouquet
and i had to swiftly bridle
my galloping imagination
and out-of-control emotions.

until today,
i never knew how easy
it was for this complex 
and sometimes confusing world
to fade away until
i spent some time
in her world.

9. The Guilt Complex
she kissed me and the purest
of love flowed from her lips,
and immediately i knew
i would never be able
to return that unconditional love
she gave so effortlessly.

then for the first time 
guiltiness introduced itself to me.

we sat under the welcoming shade
of a blooming tree and 
she told me her untold stories 
because she said
her spirit trusted me.

silently i started having 
a conversation with guilt
just because i questioned
my ability to carry the burdens
of her trust.

she looks at me with so much
assuredness,
she believes in me even when
i don't believe in myself,
she trusts me with her life
and her love and this
makes me feel guilty.

she supports me in ways
i am yet to truly fathom.
i often ask myself
i am deserving of her
and then silently retreated
to my guilty room.

Final thoughts on poetry about relationships
When it comes to relationships, poetry can be a beautiful way to express our thoughts and feelings. It can also be used as a tool to help us understand and communicate with our partners. By reading and sharing poems about relationships, we can gain a deeper understanding of the ebbs and flows of love.
Poetry about relationships can offer us a new perspective on love, help us to communicate our feelings, and provide us with an outlet for creative expression.