Sexy Love Poems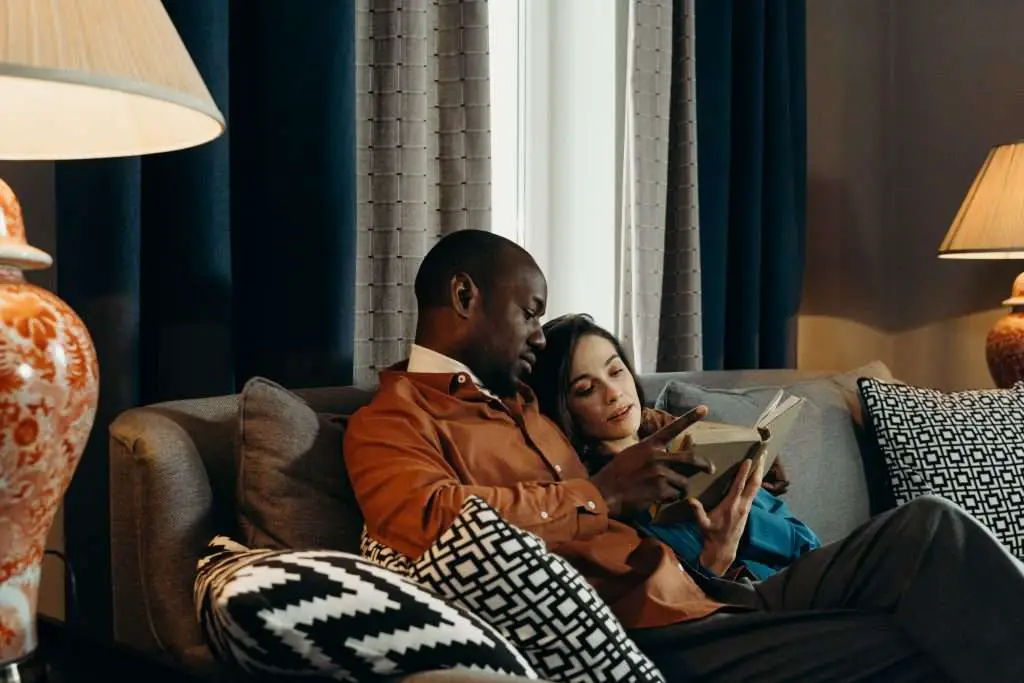 Love poems are perhaps the most emotive form of writing, and they can be used to communicate any feeling that a person may have. There's something about a passionate love poem that just makes you feel all flirty and happy. Whether it's written with the intention of turning someone on or just stirring up some sweet memories, these poems are sure to put a smile on your face.
Whether you're looking to express your undying affection for someone, or just want to get them in the mood, these sexy love poems are sure to do the trick. Let's slide right in.
Affiliate Disclaimer: This post may contain affiliate links, which means I will receive a commission if you make a purchase using these links.
Kissing King
she draws me in with
lips that's
tender and succulent,
she keeps me glued
with the slow flow of
her honey flavors.
her kissing is celestial.
with every smack
of her lips
with every gentle kiss
she keeps me
wanting more
and more and more.
she has transformed me
into a kissing king.
Sexy love poems will make your body feel alive.
The Little Things
it's the little things
i wanna do with you.
i wanna run and bathe
in the rain with you.
i wanna stay up all night
with you.
i wanna cook nutritious meals
for you.
it's the little things
i wanna do for you.
i wanna hand-picked
roses for you.
i wanna play the fool
for you.
i wanna be there for you.
i wanna do all these little things
just for you.
Sexy love poetry will fuel the fire with desire.
Like Fine Wine
after all this time
you have matured
like fine wine-
bottled goodness,
priceless,
elegant,
ageless,
with a love that's savory.
Sexy poems are always a treat, especially when they're written for that special person.
Desirable
her silky voice
caress my auditory faculties
and send shivers
through my senses.
her bright and inviting eyes
call out to my soul
bringing a fond smile
to my face.
heavenly scents
whisk me off to
a celestial place where
she satisfies my every fantasy.
Love poems can lead to kissing and touching.
In My Mind
in my mind, i can taste
the essence
of your invitational lips.
in my mind, i can feel the warmth
of your enticing embrace
which quenches
my insatiable thirst.
in my mind, i can feel  
electrifying sensations
seeping through my bone
making me excited.
in my mind, i can do
all the things i want to do
to you just because its
in my mind.
Use sexy poetry to express those strong feelings that is hard to describe any other way.
Just to Please
i'm slow and deliberate,
just to please
you.
my attention to details
are to guarantee
your total satisfaction.
the dexterity of my
tender-hearted touches
are done with  
one objective in mind,
i want to please you totally.
Let your passion explode when reading sexy love poems.
The Teasing Game
your flower
piqued my curiosity
and triggered my quest
to study her intricate details.
each exploratory touch
revealed so much.
the stroking of her stamen
yield a quivering
reaction accompanied
by a flood of fluid excitement
saturating the surface
of her petals.
your eyes locked with mine
halfway through the exploration
and pleaded with me
to continue exploring.
Poetry can make your heart race when you're reading them to that special someone. 
Chasing Flavors
irresistible was the best way
to describe her.
one taste of her essence
left me wanting
more and more
and more.
soon i was caught up
in the chase-
chasing after her flavors.
chasing
after her irresistibility.
Surrender to the magic imagery of poetry
Tell Me
don't wait,
say it to me now.
tell me
your deepest thirst.
tell me
about those
unspeakable urges.
say it to me
in simple words.
tell me
how to please you.
tell me
what tease you,
tell me.
Sexy Love Poems Collection
Enjoying These poems? Read more in the full collection below:
Smooth Jazz and Fine Wine
a skilfully played
tenor saxophone
lured your heightened senses
and speak to you in  
sultry tones that are only
understood by
a thirsty soul.
unspeakable bliss
slowly coerce you
to sip some more
of the liquid delight
and you tamely surrender
to the subtleties of
your chilled seducer.
the liquid lure
gently approaches
anxious lips while
dim lights take you
on a celestial journey
where the cares
of the day just drift
like smoke in
gentle evening breeze.
Let your imagination soar with pure delight by reading sexy love poems.
The Moon Smile
tonight,
the moon smiles
generously
just because of you.
the sea breeze
whispers tranquilizing
words of comfort
and we snuggle.
your company
lights up the dim environment
like a thousand fireflies.
tonight,
the moon smiles
just to reveal
another dimension
of your loveliness,
another dimension
of your lovingness.
Romantic poems have a way of making your body feel things it never felt before.
We Make Music
every time our hearts meet
there is a familiar rhythm
that beats deep within
and we get lost
in the dance of enticing emotions.
it's just one
of the ways we make music
we create our own music
with body heart and soul.
every time our hearts meet
there is a familiar rhythm
that beats deep within
and we get lost
in the dance of engaging emotions.
it's just one
of the many ways, we make music.
Build up the romantic heat with sexy love poems. 
Late Night Dinner
with steamy lingerie
like that let's do
late night dinner
under the stars,
where the still of the night
sets the stage for
the soothing music of
the whispering wind.
i would love to have
the pleasure of
dining with your smile
and enjoy the glow
of your excited eyes.
with erotic lingerie like this
let's make plans
for a late-night dinner
under the watchful eyes
of winking stars.
Reading love poems can get you in the mood, to do something naughty.
Pulsating Petals
touched
with tantalizing care.
seasoned
to sensual satisfaction.
fondled into a fit of frenzy.
toyed
into heightened tensions.
i have given her flower
full attention,
now her petals
are pulsating with gladness.
When you read sexy love poems it makes you feel like you can fly.
Unfulfilled Desires
it shows in your
expressive eyes
that speaks of insatiable thirst.
too long in starvation,
trapped by wild
pesky desires.
you have become
skilled at masking
your chafe cravings.
pretend at your own peril.
how long
do you want to hide
the way you feel within?
i have the remedy,
i have the serum
to unleash and satiate
your unfulfilled lust.
Great love poems increase the excitement, the anticipation, the lure.
Turning Petals
i turned the pages of
her rose and slowly  
she began
to read me her story.
line by line.
i strummed on
her sensitive cord
with my favorite finger
and
she started
singing sweet songs
of appreciation to me.
There's nothing quite like the thrill of reading love poems. 
One More Time
i don't know
why you did do what you did
to me but
do it to me one more time.
i'm not sure
you know how
this makes me feel
so just do it
one more time.
you have unshackled my
unaddressed yearnings
please, give it to me
one more time.
Conclusion
Sexy love poems are a great way to spice up your relationship. They can help you to feel more connected to your partner and express your love in a more passionate way. If you are looking for a way to add some excitement to your love life, consider using the sexy love poems shared above.
Thanks for taking the time to read, which one was your favorite poem and why? Share in the comment section below.