Poem For Birthday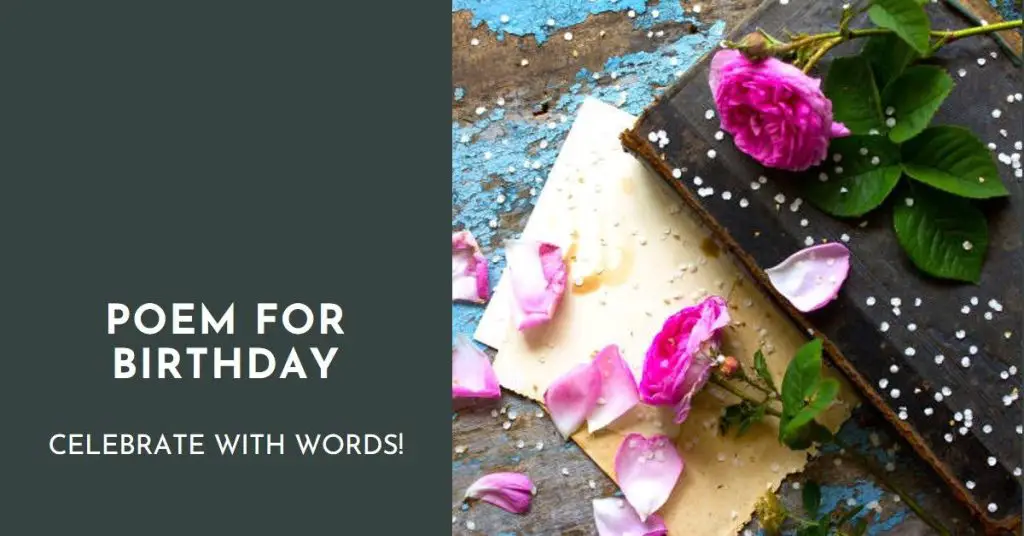 The perfect birthday poem has the ability to capture feelings of love, admiration and respect. It should be both thoughtful and heartfelt, expressing genuine emotion through words.
A great birthday poem also celebrates the unique personality of the recipient – highlighting all the wonderful qualities they possess.
Writing or finding such a meaningful piece is no easy feat – but it's certainly worth it when you see the smile on your loved one's face!
In this post, I will share some tips and examples to write a memorable birthday poem.
So join me as I delve into the world of poetry for birthdays – where together we can craft something truly magical!
Types Of Poems For Birthdays
There is no better way to express your good wishes than through a heartfelt poem.
Whether you want to write something funny, sentimental, or meaningful, there are many types of poems for birthdays that can fit the occasion. Here are five options:
Haikus – are short with just three lines and seventeen syllables in total; they're perfect for those who don't have time but still want to wish someone a happy birthday.
Limericks – offer up lighthearted fun—a five-line rhyme scheme often used as an amusing gift from one person to another.
Sonnets – provide structure and timeless themes of love or loss that capture eternal emotions within fourteen lines of iambic pentameter.
Free Verse – does not have a regular rhyme or meter and is instead based on the poet's natural rhythm and phrasing.
Acrostic – is a type of poem in which the first letter of each line spells out a word, name or phrase when read vertically.
Whatever type of poem you choose, make sure it reflects the true spirit of this day: expressing gratitude towards someone special in your life.
To create something truly unique, consider writing a personalized poem specifically tailored to them.
Happy Birthday (haiku)
A happy birthday 
Celebrate the day, be true
Special day for you

Writing A Personalized Poem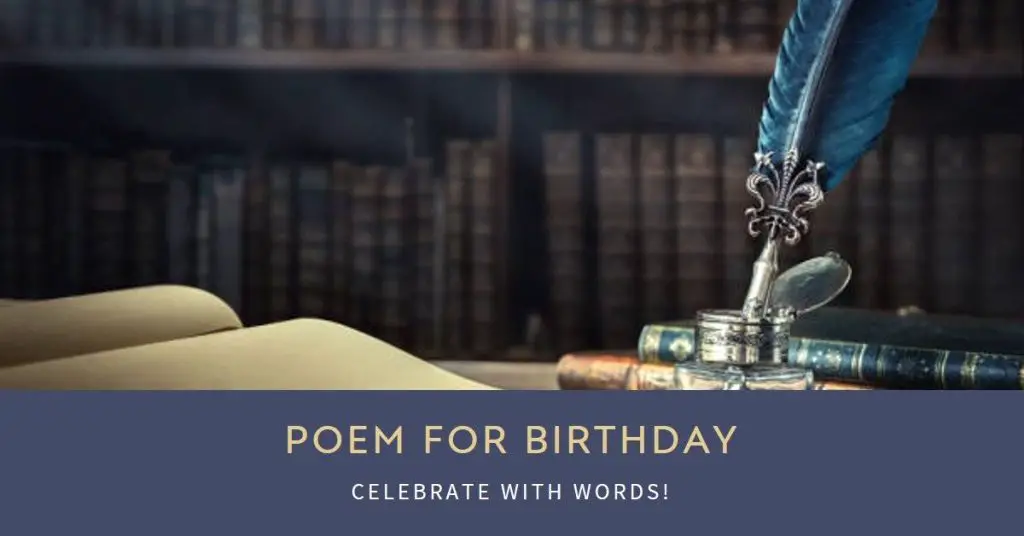 Today is a special day, and there's no better way to make it even more meaningful than by writing your own personalized poem for the birthday celebrant.
It doesn't have to be long; just a few lines expressing your love and appreciation will go a long way in making them feel truly cherished.
To get started, think about what you admire most about this person. Maybe it's their strength or courage, their generosity of spirit, or their unfailing kindness – whatever it is that makes them unique should be celebrated in your poem.
Writing from the heart helps ensure an honest expression of sentiment that will surely touch their soul.
With thoughtful words and a bit of creativity, you can craft something they'll treasure always. Now let's move on to making a meaningful wish…
Sharing the Moments
My heart is so full of joy
As I share in your birthday moments
Along with those who mean the most to you.

The laughter that fills the room
As we share stories old and new,

Reminds me how blessed we are
Just to have you in our lives.

The sparkle in everyone's eyes
As we enjoy each other's company
Makes this day all the brighter.

We celebrate with food and drinks
Sharing in the birthday cheer
Creating memories to last us a lifetime.

Making A Meaningful Wish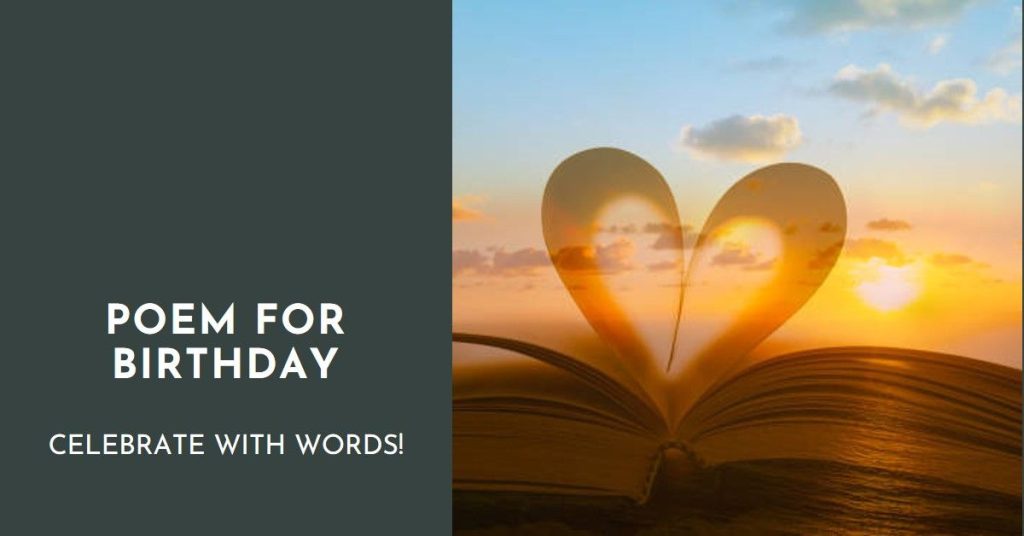 A meaningful wish carries greater value than any material gift – one of love, joy and goodwill for life's journey ahead.
Take the opportunity to bless them with hope, faith and courage for whatever lies beyond their horizon.
With such wishes, you open up the gateway towards living a fulfilling life full of abundance and prosperity.
And so, let us now turn these heartfelt intentions into verses that best capture the spirit of each passing age.
Your Birthday Cake
Your birth day cake, 
Is a sight that makes my taste buds sing.

Decorated with frosting, 
So many bright colors
Each one a symbol of your life's delight

The candles on top, 
In creative formation
A reminder of your unique personality.

As you make your wish, 
I hope it comes true
And may all the happiness of life 
Be your for the taking.

Your birth day cake, 
A symbol of joy,
A reminder of how much 
You are loved and enjoyed.

Cutting it up, we'll all share a slice
A sweet reminder of the day we celebrate you.

As we make a toast, we'll smile with glee
Happy Birthday to you!

Verses For Special Ages
At special ages, it's nice to acknowledge the milestone with a poem that celebrates the occasion.
Whether you're turning 10, 18, or 50, there are many ways to craft words of love and admiration for your loved one.
Think about their unique personality traits – what makes them laugh? What do they value in life? These details will help create an individualized birthday ode that reflects the bond between you two.
To add even more sentimentality, use metaphors and similes that express how much joy they bring into your life. All these elements come together to form a personalized masterpiece!
Take some time to reflect on all these ideas as you prepare to write your heartfelt verse.
You're 10 Today
You're 10 today,
Your life will keep unfolding-
So many doors of opportunity
Yet to be open.

Some dreams are still far away,
But each day brings them closer.

Your life is just beginning,
Your future is looking brighter each year.

The path may twist
And turn
And weave,
But you have the courage 
And strength 
To achieve.

You have so much to look forward to,
So make sure you keep your spirit true.

Your courage will help you reach your goals,
And you'll never be alone in your strolls.

Happy birthday to you, 
My 10 year old.

Finding Inspiration For Birthday Poetry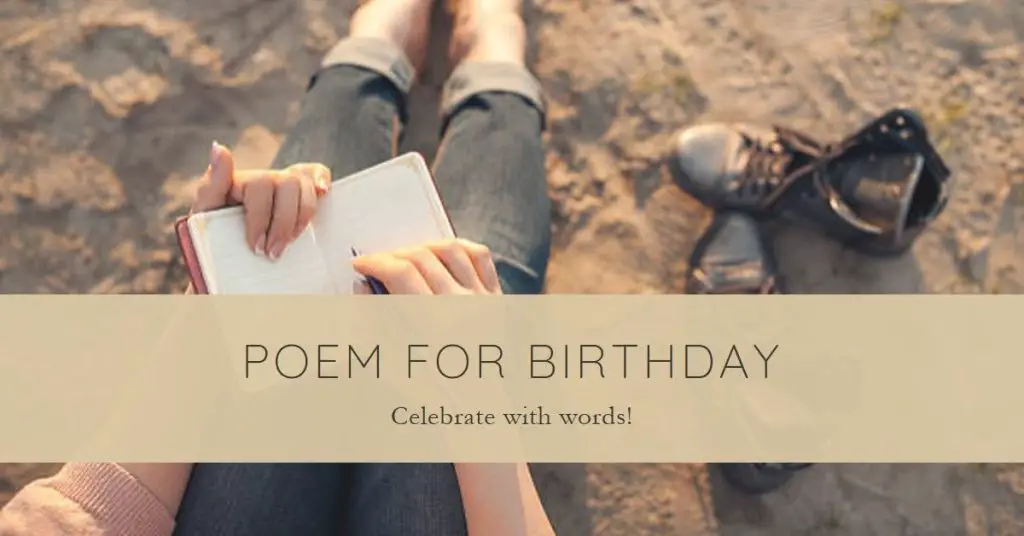 It can be difficult to find the right words when it comes to writing a poem for someone's birthday. But don't worry!
There are so many different ways that you can use to help inspire and create a unique and special message for your loved one on their special day.
First, start by thinking about what kind of emotions or feelings you want to convey in your poem.
Are you looking for something funny and lighthearted?
Or maybe something more serious and heartfelt?
Once you have decided on the tone you'd like your poem to take, you can begin brainstorming ideas of how best to express those feelings in words.
If possible, try and think of specific memories or instances from the past year that could be referenced in your poem as this will make it even more meaningful.
You may also consider using metaphors, rhymes, puns, wordplay or other literary devices if they fit with the type of poem you're trying to write.
With these tips in mind, crafting a personalized birthday poem should now feel much easier – so go ahead and let your creativity flow – get ready to celebrate with rhymes!
Let's Celebrate on the Beach
The sun is shining, 
The air is sweet
Let's celebrate your special day
On the beach.

We'll have some drinks 
And some delicious food,
We'll dance into the night 
Just the way you love it.


Today's the day to shout and holler
Without inhibitions,
Let's celebrate your this happy day 
With a beach escapade.

We'll laugh and talk 
And have excess fun.

It's the best way 
To celebrate the day you were born.

We'll watch the waves will crash 
And the sand will smile,
We'll celebrate your special day 
With a glasses of your favourite wine.

Let's enjoy this day of joy and cheer
It's your birthday, 
So let's make it a day to remember!

Celebrating With Rhymes
A birthday is a time to celebrate and nothing celebrates quite like rhymes! Rhyming is such a fun way to express our joy, that it's no wonder we turn to poetry on special occasions.
We can craft words together in clever ways that make us laugh or even shed a tear of nostalgia. But don't just take my word for it – try writing some rhyming verses yourself!
See how expressing your emotions with the right choice of words can bring out the true beauty of birthdays.
Remember: It's not about perfect rhymes; it's about conveying heartfelt sentiment in an enjoyable and exciting way. So go ahead and give it a shot – you might be surprised by what comes out!
It's Your Birthday
Happy Birthday, Happy Birthday,
To you, my dear.

It's a day to celebrate,
Let's party, dance and sing
Like there is no tomorrow.

Let's stick the cake and make merry!

Make a wish, and blow out the candles,
And make memories that will last,

Let's have some fun, and make this day count,
It's your day, so let's have a blast!

Using Imagery To Capture The Moment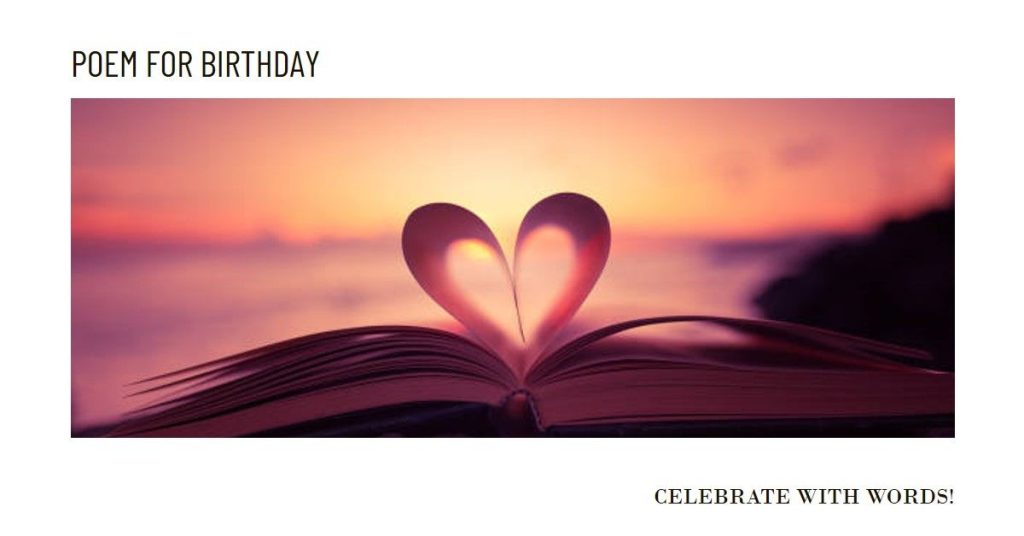 The power of imagery in a poem can be used to help capture the moment.
From describing the celebrant's favorite pastime, to capturing the joy and love they feel on their special day, these images will make your poem come alive.
Consider carefully how you want to paint that picture with words – whether it's subtle or bold, lighthearted or heartfelt – so that those reading know exactly what feelings are being expressed.
Choose certain phrases and words that can bring out emotion and encourage readers to visualize the scene as if they were there.
Include details about smiles, laughter, music, food, and drinks; all this helps create an environment for your reader to enjoy and appreciate your work even more.
Let them see through your eyes and into the heart of why you wrote this meaningful piece for someone special.
This Day
My love, today's a day to celebrate
For today is your birthday.
It's a day to bring the joy
As we join together and make memorable moments.

Today is the day to give thanks
For all the joyful moments we shared,
It's a day to remember all the wonders you do
And how much i love you.

This day is special because of you.
Let us celebrate it in a grand way-
Let's dance, sing, and laugh away
As we enjoy this birthday.

Presenting Your Poem As A Gift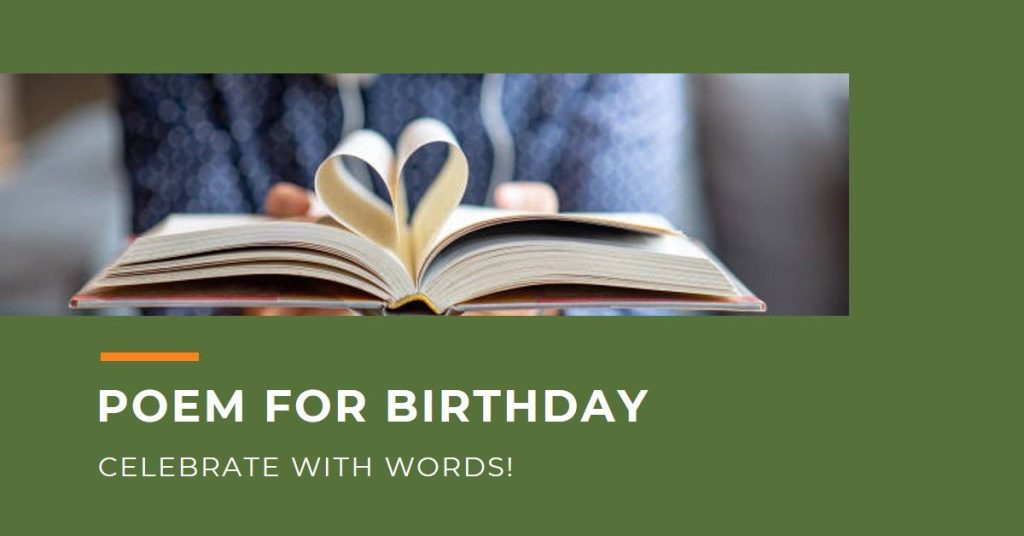 Presenting your poem as a gift is like giving someone the key to your heart. It's an intimate and thoughtful way to show how much you care about them on their special day.
Whether it be printed out or recited in person, sharing your words can create a lasting impact that will bring smiles to everyone present. Here are some ideas worth considering:
When presenting your poem, choose a setting that fits the occasion.
Consider where the birthday celebrant typically spends time and make sure they are comfortable with the environment before beginning your presentation.
Deliver each line of the poem confidently and clearly while making eye contact with those around you.
Take pauses between the lines so people have a chance to take it all in and appreciate what was just said.
Speak from the heart; let emotion pour into every word and phrase as if you're telling a story rather than reading aloud from paper.
When done correctly, this heartfelt act of kindness will be remembered for years to come!
Today I celebrate you
On this special day
Your life is full of joy,
In every single way.

Your love for life is infectious,
Your spirit so strong,
Your energy and enthusiasm,
Can never be smuddered.

Today I celebrate you,
Your heart and your soul,
Your thoughtfulness and kindness,
Today I celebrate all of you.

Your courage and resilience,
Your ambition and your dreams,
Your never say die qualities 
And uncompromising ways.

Today I celebrate you,
The person you have become-
Your inspiring journey,
Your bright future,
And fun filled ways.

Happy Birthday to you,
My love.

Your life is a blessing
Today I celebrate you.

Final Thoughts on Poem for Birthday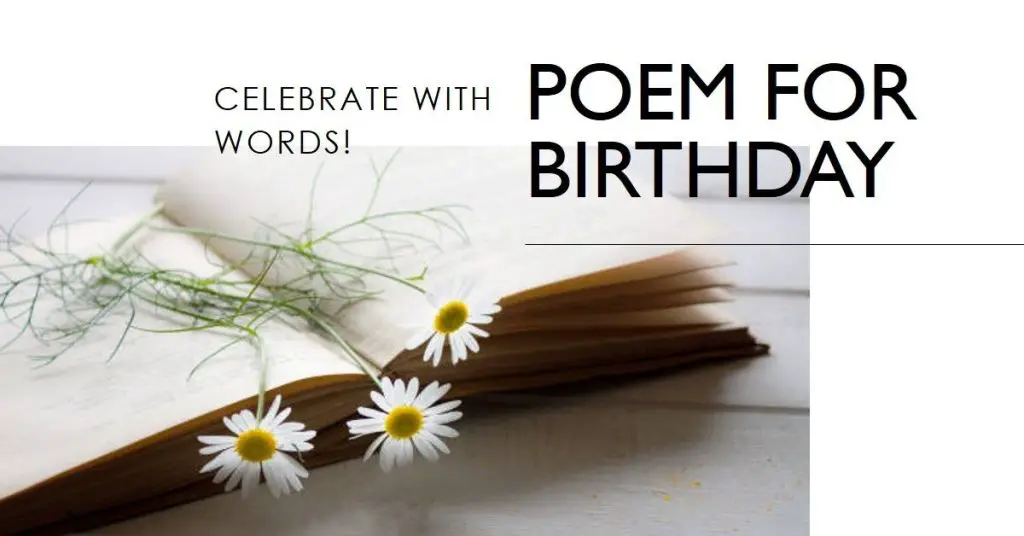 To conclude, a poem for a birthday is that it's about more than just words. It's the thought and effort put into creating something special for someone you care about, which makes it even more meaningful.
A heartfelt poem can make all the difference in making a birthday celebration truly memorable. Can you think of a better way to show how much they mean to you than through a personalized poem?
Whether it's funny or serious, short or long – every word should be carefully chosen so that your verses are full of love and admiration. With a little bit of creativity, writing such an inspiring piece becomes easier with each line written!
We hope this article has helped inspire you to create something beautiful for someone special on their birthday.